CLARION, Pa. (EYT/D9) — Jackson Zimmerman was ready for the grind.
The Brookville senior has been prepared for that all season.
When he took the mat against Carter Chamberlain of Clearfield with the 189-pound District 9 Class 2A title on the line at PennWest Clarion's Tippin Gym on Saturday evening, Zimmerman had a clear plan.
It paid off in a 5-2 decision that gave Zimmerman his first district title after back-to-back seasons of finishing runner-up.
(Pictured: Jackson Zimmerman had finished runner-up two seasons in a row at District 9 individual wrestling championships. Not this year as the Brookville senior won the 189-pound title/photo by Molly Zimmerman)
"I'm happy about it," Zimmerman said. "I have bigger goals than this. It's awesome for this week, but tomorrow, I'm gonna move on and get ready for next week."
Zimmerman was determined to not place second at the D9 individual wrestling championships for a third consecutive year.
He went into the title bout on a mission.

District 9 wrestling coverage on D9Sports.com is brought to you by Luton's Plumbing, Heating, and Air Conditioning.
"I had a game plan going into it," Zimmerman said. "I just stuck to my game plan the whole way through. I knew what he was going to be attacking me with, so I just kind of kept moving forward and just wrestled."
Zimmerman was one of two Brookville wrestlers to take gold.
Sophomore Cole Householder won his second title, this year at 127 pounds.
Householder wasted little time in dispatching Cole Neil of St. Marys, earning a fall in just 1:31.
Zimmerman said there is nothing like being a part of the Brookville wrestling program, which is a perennial Pennsylvania power.
"Like I've mentioned before, I think I'm in the best room in the state," Zimmerman said. "I'm going to keep training and keep trying to get better these next two weeks."
It was a strange year for the Raiders, who heard the naysayers all season talking about how the program was down a notch from the high perch it usually resides.
That was reinforced by a loss to Clearfield during the dual-meet season.
But Brookville earned redemption by beating Clearfield for the District 9 team championship.
"We worked especially hard this year," Zimmerman said. "We knew that night we lost in Clearfield's gym that that wasn't going to happen the next time. We knew there were some matches we could flip and some different matchups we could get. From there, we just kept training and everyone kept working harder and it all seemed to work out."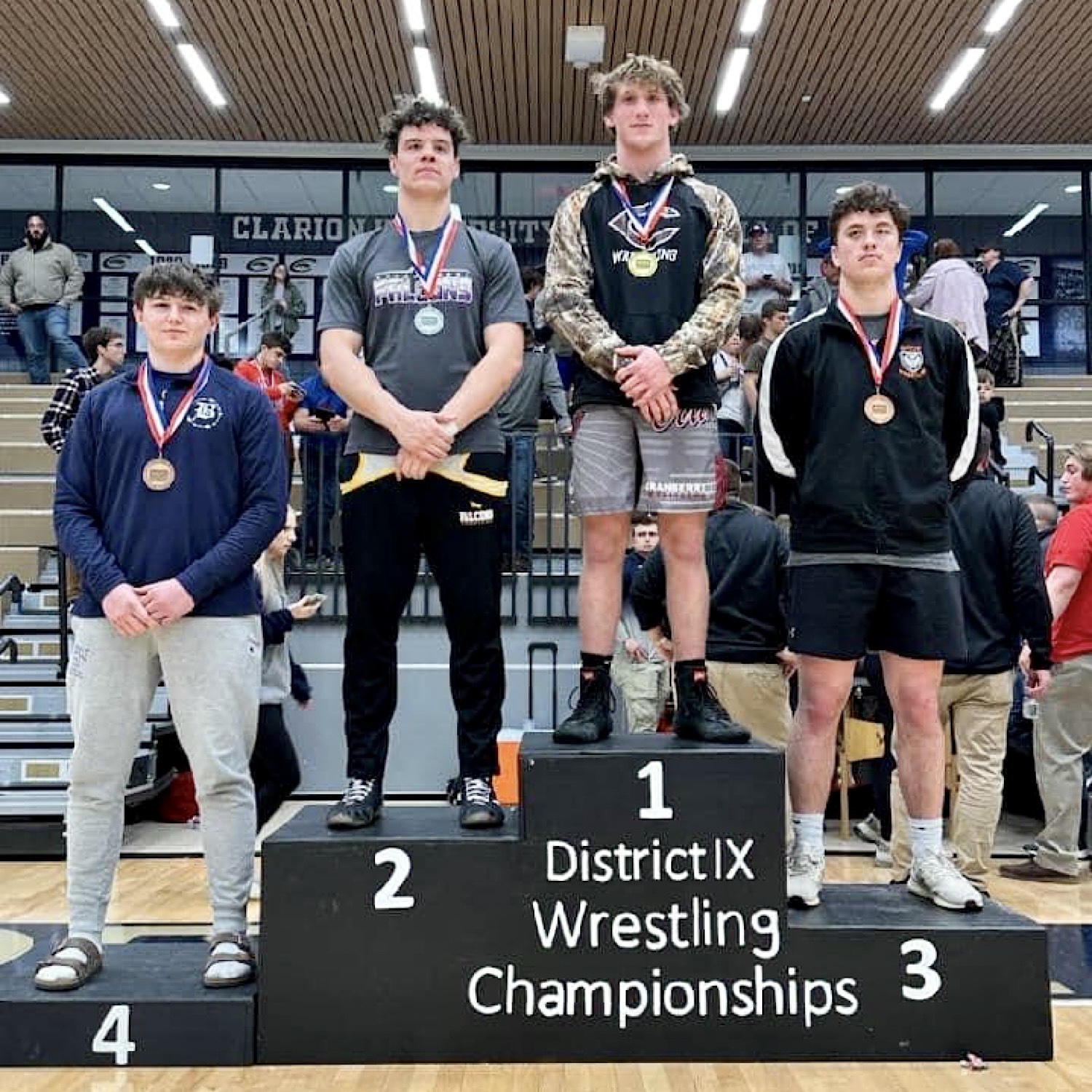 (Cranberry's Brayden McFetridge won the 215-pound District 9 title)
Things also seemed to work out for another senior, Cranberry's Brayden McFetridge.
The 215-pounder was also runner-up last season, but he avenged that loss with a D9 title this time around.
McFetridge dominated Gavyn Ayers of Clearfield, piling up the points in earning a 20-4 technical fall for the crown.
"He had some weight on me," McFetridge said. "I was just playing defense and waiting for him to slip. I never wrestled this kid. I haven't really heard a lot about him. I went out there and wrestled like I would any other match."
"I was seeded first, so that definitely gave me some confidence," McFetridge added. "I've been wrestling good all year and hadn't let anything get in my way."
Neither did Cranberry, which also had two champions.
Dalton Wenner at 107 pounds won his title with a quick pin over Oswayo Valley's Andrew Coriaty.
Cranberry coach Dustin Wenner was named the D9 wrestling coach of the year.
"It's amazing, honestly," McFetridge said. "We have one of the best teams we've probably ever had. Being my senior year and the team doing so well and coming together, it's just awesome."
The most outstanding wrestler went to both Waylon Wehler of St. Marys and Weston Pisarchick of Brockway.
Wehler defeated Aiden Bliss of Port Allegany by a 16-1 tech fall to claim the 172-pound championship. His brother, Jaden Wehler, was the 145-pound champion.
Pisarchick also won by a 16-1 tech fall. He beat Aiden Beimel of St. Marys in the 114-pound bout and remained undefeated this season.
His brother, Parker Pisarchick, was the 133-pound champion.
Perhaps one of the oddest roads taken to a D9 title was traveled by Port Allegany sophomore Carson Neely.
The heavyweight won both his semifinal and championship bouts by injury default on Saturday.
First, Baily Miller of Brookville couldn't continue against Neely after just 25 seconds in the semifinal matchup. Then, Neely was leading defending heavyweight district champion Gavin Thompson of Brockway 1-0 in the second period when Thompson injured his knee and couldn't go on.
"It's not the way I wanted to win it," Neely said.
Neely's rise has been meteoric.
Last season he was just 4-9. But he refocused during the summer and hit the weight room. He emerged as one of the best 285-pounders in the state.
After his D9 win, he's 30-0 this season.
"Lots of hard work and determination went into this," Neely said. "I'd like to thank my coaches and teammates as well."
Neely's goal has never wavered.
He'll continue chasing that next weekend at the Northwest Regional and then, he hopes, at the PIAA championships on March 9-11 in Hershey.
"I feel like everyone wants to win a state title," Neely said. "It's just a matter if you are willing to put in the work to go get it. I'm definitely going to do that."
FINALS
107-Dalton Wenner (Cranberry) pinned Andrew Coriaty (Oswayo Valley), 1:01
114-Weston Pisarchick (Brockway) tech fall Aiden Beimel (St. Marys), 16-1 (4:12)
121-Evan Davis (Clearfield) dec. Elijah Brosius (Cranberry), 2-0
127-Cole Householder (Brookville) pinned Cole Neil (St. Marys), 1:31
133-Parker Pisarchick (Brockway) dec. Conner Reszkowski (Cranberry), 7-0
139-Brady Collins (Clearfield) pinned Ben Reynolds (St. Marys), 3:01
145-Jaden Wehler (St. Marys) maj. dec. Ty Aveni (Clearfield), 8-0
152-Reece Bechakas (Kane) dec. Mason Gourley (Clarion), 3-1
160-Aiden Zimmerman (Johnsonburg) dec. Luke Ely (Kane), 3-1
172-Waylon Wehler (St. Marys) tech fall Aiden Bliss (Port Allegany), 16-1 (4:32)
189-Jordan Zimmerman (Brookville) dec. Carter Chamberlain (Clearfield), 5-2
215-Brayden McFetridge (Cranberry) tech fall Gavyn Ayers (Courdersport), 20-4 (6:00)
Hwt-Carson Neely (Port Allegany) inj. def. Gavin Thompson (Brockway), 1-0 (3:22)
Copyright © 2023 EYT Media Group, Inc. All rights reserved. Any copying, redistribution or retransmission of the contents of this service without the express written consent of EYT Media Group, Inc. is expressly prohibited.