DUBOIS, Pa. (EYT/D9) — There was a time when Emma Suplizio didn't see herself playing softball beyond high school at DuBois Central Catholic.
(Above photo by Melissa George.)
It wasn't all that long ago.
She shrugged at the notion — until she began to realize late last spring that she couldn't do without the sport that has been such an important part of her life.
"I realized that I could take it to the next level," Suplizio said. "What changed my mind was I sat down one day and realized that if I'm not playing softball for another four years after this, I'm going to be so sad. I'm going to miss it so much. So, I kind of sat down and was like, 'I need to work really hard to get to the next level.'"
That has shown this season. The senior right fielder on the DCC softball team, who won't go far to play college softball—she's committed to Penn State DuBois—has been nearly impossible for opposing pitchers to deal with.
The numbers are striking. In 23 games, Suplizio is batting .514 with seven doubles, a triple, and two home runs. She's driven in 33 runs and has an OPS of 1.293.
Perhaps her most impressive statistic is in 78 plate appearances she has yet to strike out.
"I'm very competitive," Suplizio said. "I looked at my numbers from last year, and I knew I wanted to beat them."
It's not as though Suplizio struggled last season. She hit .507, after all, with seven doubles, three triples, and 27 RBIs.
But, she wasn't satisfied.
She rarely is.
So, she and her father, Dominick, were mainstays at a local park where she took batting practice relentlessly.
Every single day.
Suplizio worked on all aspects of her game, determined to exceed what she had done as a junior.
Mission accomplished.
"I practiced taking the ball wherever it was pitched," she said. "That's the big thing I focused on."
Now Suplizio is focused on helping DCC reach the PIAA Class A championship game.
The Cardinals are right back in the state semifinals, the round where they lost to West Greene a season ago to end their run.
DCC got a measure of payback Thursday, beating West Greene, 8-2, on the strength of a 3-for-3, four-RBI day from Suplizio.
She's been red hot in the post-season.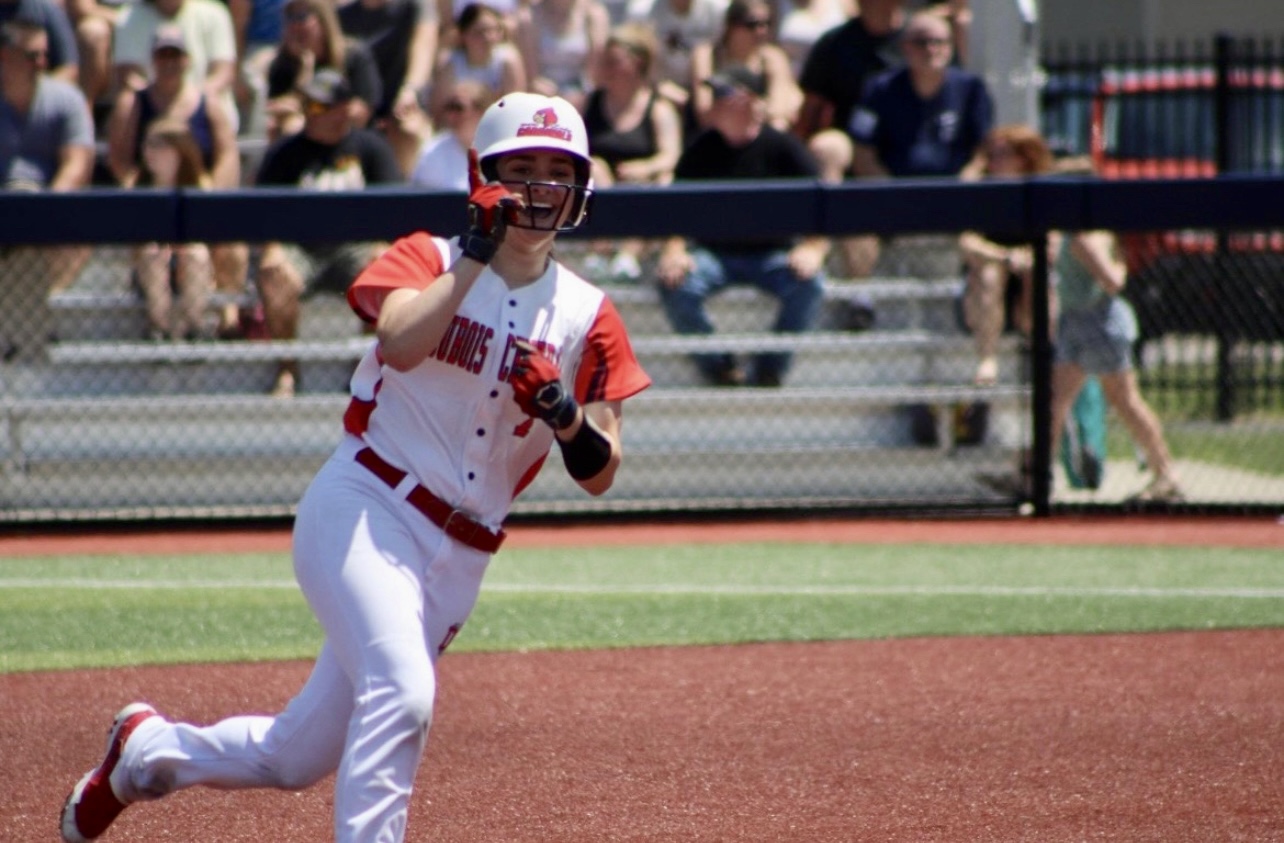 (Photo by Melanie Spellen.)
Suplizio had never hit a home run in high school until the District 9 championship game against Forest. She went 3-for-3 that day, too, in a 10-0 win.
The very next game, she homered again against Greensburg Central Catholic in the first round of the state playoffs. That three-run blast turned a 2-1 deficit into a 4-2 lead in the bottom of the fifth on the way to the victory.
"I always came super close, and I always hit them in practice," Suplizio said. "It was definitely an amazing feeling to hit one in back-to-back games. For sure."
Now that DCC is just one win away from reaching Penn State University and playing for a state championship, Suplizio said she and the team are supremely motivated to get there.
The win over West Greene was a shot in the arm.
"They are kind of a rival to us," she said. "We beat them by such a big margin, we are on top of the world right now.
"I think we really started playing as a team toward the end of the season, around the district championship," Suplizio added. "We all realized, 'OK, we're buckled in now. OK, we're gonna make a run and we're gonna go for the state title.'"
The Cardinals will face another big test when they take on District 10 champion Saegertown at 4:00 p.m. on Monday at Westminster College.
The Panthers have one of the best pitchers in the state in Mikaila Obenrader, who threw a no-hitter in a 1-0, eight-inning quarterfinal win over Union-New Castle.
"We're just gonna keep hitting the ball no matter what," Suplizio said. "We always think that our offense is going to square up the ball."
It's been a fun spring at DuBois Central Catholic. The baseball team is also alive and will play in the state semifinals Monday.
Both were at Slippery Rock University playing on fields close to each other on Thursday. After the DCC baseball team dispatched Saegertown, they sat on a grassy hill and watched the softball team take care of business.
"It was great to have their support," Suplizio said. "We got a big team picture with both teams together after the game. It's just more fun whenever everyone is doing well."
Suplizio isn't just ultra-competitive on the softball field. She's competitive in everything she does.
When it comes to her studies, Suplizio attacks the books like she attacks a fastball over the plate.
"I'm kind of a nerd," Suplizio said, chuckling. "I'm a little crazy when it comes to school."
It's no wonder then that Suplizio was the class valedictorian. She gave a speech comparing high school to—what else?—softball.
"I compared freshman year to first base and sophomore year to second base and how there was a timeout due to COVID and how graduation was kind of like scoring a run, but it wasn't the end of the game. It's just the first inning in the rest of your life."
It took Suplizio about a month to write the speech.
"I was very satisfied with how I did," she said.
Suplizio hopes to get a satisfying state championship before she tests her skills in college.
She will have a double major in psychology and human development and family studies. She wants to be a clinical psychologist one day.
Suplizio said she is also looking forward to being reunited with some of her former DCC teammates at Penn State DuBois.
"I'm very excited to play with them again," she said. "I looked at the other Penn State branches, but I always wanted to be at Penn State DuBois."
Copyright © 2022 EYT Media Group, Inc. All rights reserved. Any copying, redistribution or retransmission of the contents of this service without the express written consent of EYT Media Group, Inc. is expressly prohibited.