PUNXSUTAWNEY, Pa. (EYT/D9) — Chloe Presloid tried to stand, but couldn't.
She tried to push herself up off the court at Clearfield High School, but the guard on the Punxsutawney girls basketball team crumpled back down to the floor.
"It was weird," Presloid said, "because I've never felt anything like that before."
(Pictured above, Chloe Presloid has scored 16.1 points per game while continuing to play stellar defense for Punxsutawney this season despite suffering a scary back injury in early December/submitted photo)
Pain, but not exactly pain. Extreme discomfort. The sensation that she couldn't move.
Presloid didn't know what to do.
She had just landed awkwardly on her right leg during the third quarter against the Bison in just the fourth game of the season on Dec. 9.
The impact wrenched her back, ripped a muscle and damaged several discs — the shock absorbers of the spine.
Punxsutawney Area High School sports coverage on Explore and D9Sports.com is brought to you by Redbank Chevrolet and DuBrook.
She couldn't walk normally for a week and the initial MRI and X-ray painted a grim picture.
"When we got the MRI back, it seemed like a very serious issue," Presloid said, "and that I probably couldn't play basketball again."
But Presloid isn't one to accept that kind of prognosis. She isn't one to simply surrender to that fate.
Presloid and her family sought a second opinion. Then a third.
Finally, she was given some encouraging news.
"I did get very lucky," Presloid said. "I saw some neurosurgeons and they told me I'd still be able to play, so I'm grateful for that.
"They found a pulled muscle, some degenerated discs in my back and some bulged discs, but nothing severe enough that I had to get surgery," Presloid added. "I just had to take about a week and a half to two weeks off until I could start playing again. I've been playing through that all season. They said the only thing that'll heal it is some rest, but I wasn't gonna take my senior season off."
Presloid's play this year has hidden her pain well. It's been a struggle, she said, to get through the season with a lower back that barks at her with every pick she encounters, every foul she takes and every landing she makes while shooting or rebounding or contesting a shot.
She is leading Punxsutawney in scoring at 16.1 points per game, and is coming off a 36-point performance in which she hit a school-record nine 3-pointers in a road win over Bradford last week.
"It's been a pretty rough season, but I'm getting through it," Presloid said. "My teammates and coaches have been so supportive throughout all of it. They've been very helpful."
Just to be able to play, Presloid goes to physical therapy several times a week and does exercises at home to strengthen her back. Well before a game, she can be found stretching to get loosened up enough to hit the court.
She does it because she has some big goals — for the team and for herself.
Punxsutawney is 21-1 as it awaits the winner the of Clearfield and St. Marys game, which will be played on Thursday, for the District 9 Class 4A championship at a site, day and time still to be determined.
The time off will do Presloid and her balky back some good.
Last year, the Chucks run of D9 titles was interrupted by Redbank Valley in the Class 3A title game. This year, Punxsy moved up to 4A and Redbank dropped down to 2A.
Presloid her her teammates would like nothing more than to reclaim the District 9 title again.
The Chucks had won seven straight district crowns before being upended last season.
"I definitely want us to redeem ourselves after our loss from last season and win this district championship against whoever we come up against," Presloid said. "Whoever it is, it's going to be some good competition, but I think we'll be prepared for it with the time we have off."
Presloid is also chasing some personal history.
She's just 32 points shy of 1,000 in her career.
That milestone seemed in jeopardy because of her early season injury, which ended up only costing her two games.
Her 36-point outburst last week certainly helped her draw much closer.
"My teammates, I'm so grateful for them. They've really looked for me and we all worked as a team," Presloid said. "They're helping me get through this and try to get that career goal of 1,000 points.
"Missing those two games, it did cross my mind (that it might cost me 1,000 points)," she added. "But I'm very focused on winning. I always want to win and whatever I do individually is just for the team. I'm never focused on being the leading scorer. I just want to work together as a team and win. Whatever comes with the wins I'm grateful for. I've had that goal since my freshman year. If I don't end up getting it, that's fine. I'd rather with districts and get into the state playoffs."
Presloid takes much more pride, however, in her defense.
Last year, she was named the D9 League defensive player of the year, as well as the MVP.
"Everything starts with defense," Presloid said. "That's my mentality. You can create offensive opportunities with defense. We all stress defense on this team."
It's shown in the final scores. Only twice this season has an opponent scored more than 50 points against the Chucks. Eleven times a team hasn't even cracked 30 against Punxsy.
That's by no accident. Presloid and her teammates have worked tirelessly.
"We wanted to come back this season even stronger than we were last year," Presloid said. "We've been working all season, playing hard."
Presloid has worked hard outside of the gym, as well.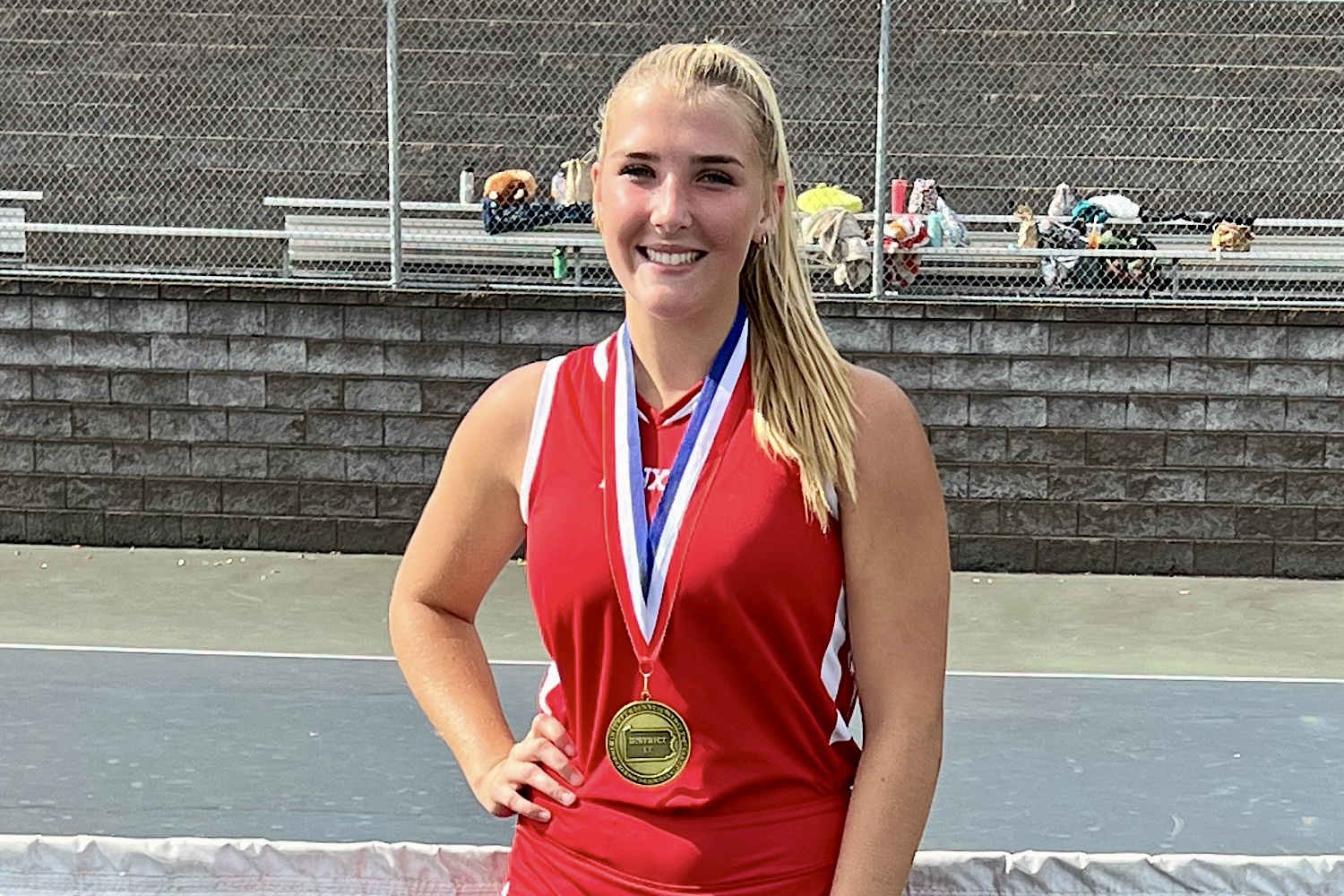 (Presloid poses with her D9 Class 2A tennis championship medal)
In addition to being a standout basketball player, Presloid is pretty good on another court — the tennis court.
This fall, she won the District 9 Class 2A singles championship.
As of right now, however, Presloid will not play either sport in college. She hasn't picked a school yet, but has been accepted into several to study industrial engineering.
Presloid hasn't been able to couple her major with basketball — and she is at peace with that.
"I had some opportunities, but they just didn't fit with my career path," Presloid said. "I've come to accept that. I mean, I'd still love to be able to play basketball and if something does change in the next couple of months where I can find an opportunity, I would definitely love to play. But I can't force something that's not supposed to be there in my life."
That made this, her final season of basketball at Punxsutawney, even more important to Presloid.
Important enough to not let anything stand in her way — even a serious back injury.
"I'm focusing on all aspects of my game before the playoffs," Presloid said. "I'd like to be able to finish better around the hoop. I've definitely been working on it, but it's not the strongest point of my game. Defense is my strong point. I just want to play my best and I just want to win."
Punxsutawney Area High School sports coverage on Explore and D9Sports.com is brought to you by Redbank Chevrolet and DuBrook.

Copyright © 2023 EYT Media Group, Inc. All rights reserved. Any copying, redistribution or retransmission of the contents of this service without the express written consent of EYT Media Group, Inc. is expressly prohibited.