CLARION, Pa. (EYT/D9) — The deficit was eight after three quarters and swelled to as many as 10 a few minutes later.
The Punxsutawney girls' basketball team needed a reversal of fortunes — and quickly — against St. Marys in the District 9 Class 4A championship game at Tippin Gym on Thursday night.
"Play smart. Play hard," said senior guard Chloe Presloid of the message following a rough three quarters. "We let our nerves get the best of us tonight, so we started slow."
But, oh, that finish was fast in a 44-41 victory over St. Marys that gave Punxsutawney its eighth D9 title in the last nine years.
(Pictured above: Punxsutawney celebrates its District 9 Class 4A title)
The Chucks (22-1) began chipping away at the deficit. Down to three with two minutes remaining. Then finally erased it on a 3-pointer by Samantha Griebel. Not long after, Avary Powell made a layup to give Punxsutawney the lead for good at 40-38 with a little less than a minute remaining.
Punxsutawney Area High School sports coverage on Explore and D9Sports.com is brought to you by Redbank Chevrolet and DuBrook.
The exclamation point on the win again came from Griebel, who hit two free throws to give the Chucks a four-point lead and then got a rebound with less than 10 seconds on the clock and scored.
"We needed to take smart shots and not force them, so that's what we did," Presloid said of the red-hot fourth quarter for Punxsy. "We needed to focus on moving the ball and driving, so we definitely focused on that."
Presloid, Punxsutawney's leading scorer at 16 points per game and just 32 points shy of 1,000, was held scoreless in the first half by St. Marys, which frustrated the top-seeded Chucks in the first half to enter the break deadlocked at 17-17.
The Dutch (19-7) opened up the third quarter with six quick points and appeared headed for a mild upset.
Not so fast.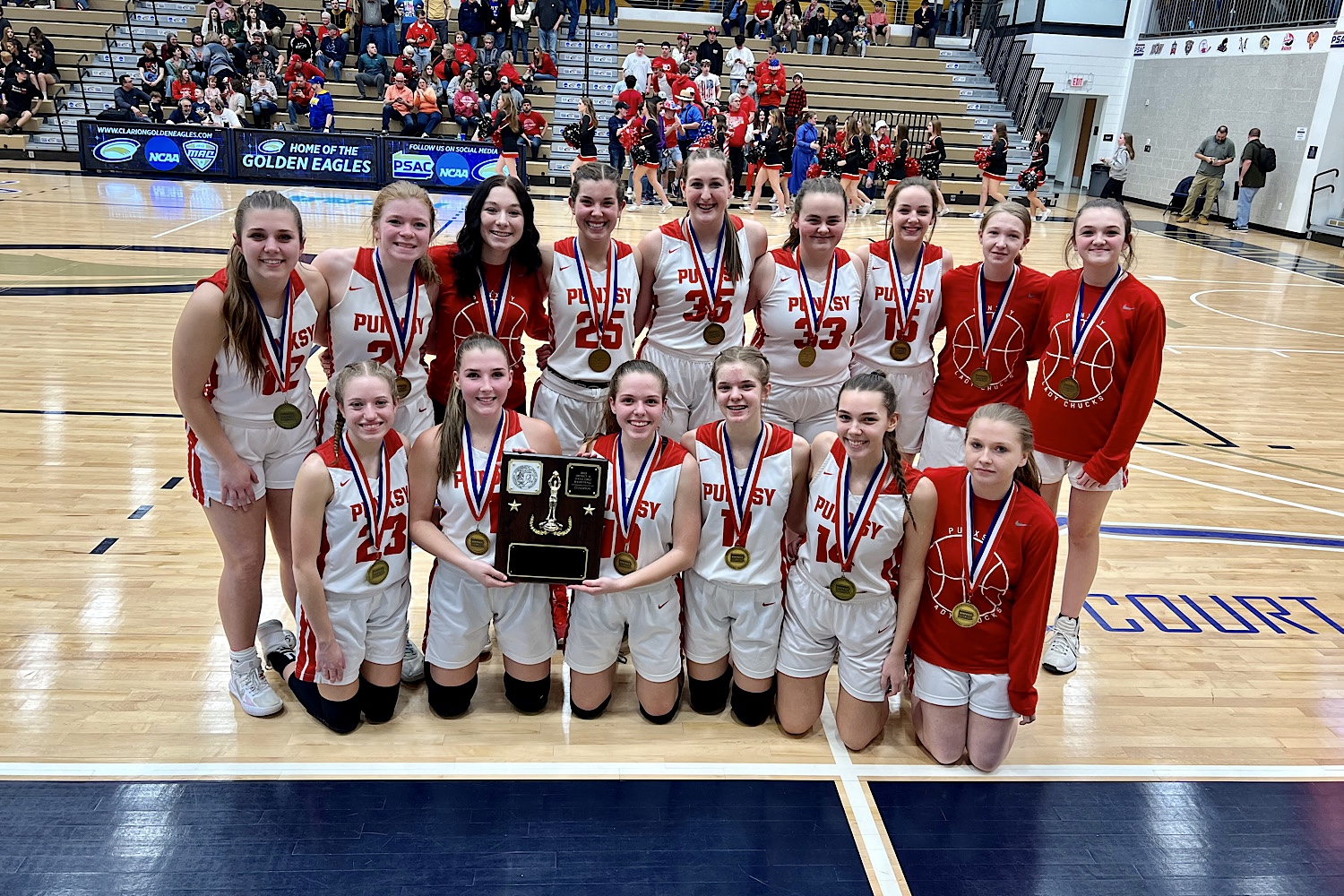 With Presloid held to just one field goal and four points, Powell and Griebel came up clutch, especially in the final quarter to hand the D9 title back to Punxsy.
Last year, the Chucks had their seven-year stranglehold on the crown broken by Redbank Valley in 3A.
For Presloid, reclaiming the title was one of her top goals coming into the season.
Now that she has it, the focus turns to the PIAA tournament where Punxsutawney will host District 7's fifth-place team Knoch on March 11.
"It means a lot to me, especially because it's my senior season," Presloid said. "I'm excited for the next games in states. We definitely worked hard all summer, fall and winter to get to this point."
Punxsutawney Area High School sports coverage on Explore and D9Sports.com is brought to you by Redbank Chevrolet and DuBrook.

Copyright © 2023 EYT Media Group, Inc. All rights reserved. Any copying, redistribution or retransmission of the contents of this service without the express written consent of EYT Media Group, Inc. is expressly prohibited.