DuBOIS, Pa. (EYT/D9) — Melia Mitskavich felt forgotten about.
Dismissed.
Ignored.
The DuBois Central Catholic softball team had reached the PIAA Class A championship game, after all, and Mitskavich had a big role in that success.
But a disappointing loss, coupled with the DCC baseball team capturing the state championship, shoved her team to the side.
(Pictured above, Melia Mitskavich is congratulated in the circle/submitted photo)
"We're really motivated," Mitskavich said. "We still got to that game, but the baseball team got so much recognition and I think that motivated us because we really want that, especially after losing that game after getting there."
Mitskavich, now a junior, will be a big reason why should the Cardinals get back to Penn State and claim the crown.
She was instrumental in DCC's playoff run last season, going 4-1 with a 1.12 ERA in the circle and batting .375 at the plate with a homer and 16 RBIs.
But like the rest of her teammates, Mitskavich wasn't satisfied.
She's elevated her game this season for the 15-2 Cardinals.
Mitskavich is batting .481 with three home runs, seven doubles, a triple and 35 RBIs this season. She's only struck out three times in 61 plate appearances.
In the circle, she's 5-0 with a 2.68 ERA.
Like DCC did at the tail end of last season with much success, the pitching duties have been split this season.
Freshman Rylee Kulbatsky is 6-2 with a 3.37 ERA and junior Lydia Morgan also has four wins and has given up just three runs in 20 innings.
"I've been typically starting the first three or four, and then Rylee will come in and pitch the last three or four," Mitskavich said. "I think that plan works so well. I know it can be hard. I remember the one game I had eight strikeouts and I came out and that was hard for me, but I think that's what is best for the team."
Mitskavich came into this season motivated in a different way.
She was not happy with how she performed as a sophomore, despite putting up solid numbers.
"Last year, I definitely struggled during the season. I didn't do as well as I wanted," she said. "So all winter I worked really hard in the cages and it feels good to know it's paying off.
"During practice we've been working on taking an outside pitch to right field. I think that's really helped."
DuBois Central Catholic started the season 12-0, then dropped two straight games to much bigger schools in State College and DuBois.
It may have been the best thing to happen to the Cardinals.
"We obviously wanted to win those games, but they were good for us, especially as we go throughout the season," Mitskavich said. "I always say I'd rather have a game like the nine-inning game we had against State College and lose than a three-inning game. Those games really taught us that we have to do the little things."
It's very much state championship or bust for DCC this season. Playing teams like Class 6A State College and Class 5A DuBois is a way to gear up for another playoff run.
There is little doubt the Cardinals feel like they are the best in Class A in District 9.
They want to prove they are the best in Class A in the state.
"We don't need to win all the games during the regular season," Mitskavich said. "We obviously do want to win them all, but the experience is better for us. As long as we win all the games in the playoffs."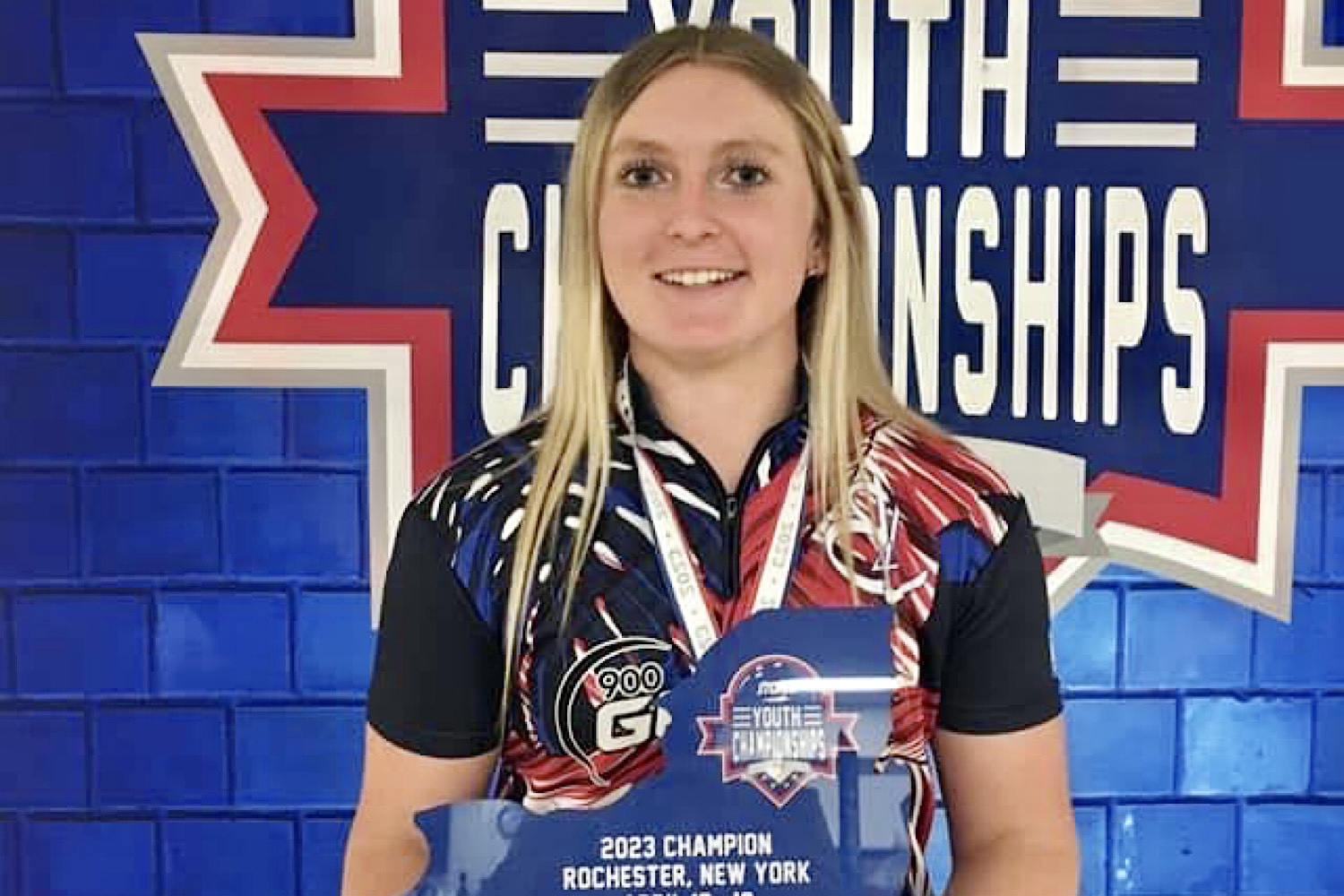 (Mitskavich holds her Storm Youth Championship trophy/submitted photo)
Strikes on the softball field aren't the only ones Mitskavich is firing.
One of the top youth bowlers in the state, Mitskavich recently won the Storm Youth Championship in Rochester, N.Y.
Mitskavich rolled a 215 average over the 15 games of the tournament, including a 240 average over her final five games to win.
It was extra special for Mitskavich, who had finished near the top, but fallen short of victory, in the previous tournaments.
"I had three second-place finishes, a fourth place and a fifth place before this one," she said. "This one felt really good to me.
"After the first day I was in third or fourth, but I was 100 pins out of first place with five games left," she added. "So going into the next day, I obviously knew I was going to have to have a good day. I think the thing I learned from the first day was I was trying so hard to throw the perfect ball and it just wasn't working. The next day I was just trying again to stick to the fundamentals and it really worked out because I averaged around a 240."
Mitskavich has to carefully balance softball and bowling at this time of the year.
It isn't always easy.
"With softball, it is hard for me to go to these bowling tournaments," she said. "Missing practice is not always a good thing."
All the arm swinging between pitching in softball and rolling a bowling ball down the lane isn't a concern for Mitskavich.
"I'm used to it at this point," she said. "When I practice, I do a lot of games, like six in an hour. I don't really think it affects me that much."
Mitskavich would like nothing more than to hold another trophy in June.
A state softball championship trophy.
"We want to go back," she said, "and win it this time."
Copyright © 2023 EYT Media Group, Inc. All rights reserved. Any copying, redistribution or retransmission of the contents of this service without the express written consent of EYT Media Group, Inc. is expressly prohibited.